California Style: NorCal vs SoCal
Everyone knows that California style is synonymous with the whole relaxed, laid back and comfy look. Or they can usually be identified by their much more glamorous ensembles compared to the rest of the United States.
But what about the whole Northern California vs Southern California debate. Being that Southern California is pretty much full of actors and actresses, you would think that they would take the cake when it comes to street style among fashion bloggers. And yes, there are some of the biggest names in blogging (Aimee Song's and Sincerely Jules, among many many others), but Nor cal girls are definitely giving So cal girls a run for their money.
Check out these five fabulous ladies from both NorCal and SoCal. Can you spot the differences? The main thing they all have in common however is that they are all absolutely stunning! Can we say hello, models?
SO CAL: Elizabeth Keene from A Keene Sense of Style in Los Angeles classifies her style as ladylike and is inspired by vintage silhouettes. We would definitely agree that she has very classic yet eye catching style. Her looks are both feminine, fun and very accessible. Being that she is of Trinidadian and Irish decent makes this beauty a standout not only for her amazing style, but her unique background.
NOR CAL: Tienlyn Jacobson from
Thoughtful Misfit
is both an on-air host, managing editor, stylist and blogger. This girl is busy busy! We love her effortless style. Her outfits never look as though she's trying too hard yet are extremely chic and sophisticated. It obviously helps that she's gorgeous and can probably get away wearing a potato sack. Her laid back style, is California centric and in line with any celebrity or model.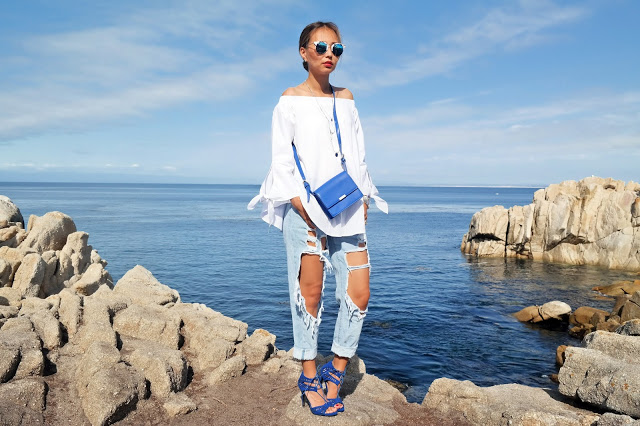 NOR CAL: Originally from Kazakhstan, Diana Horsfall or
Queenhorsfall
from
Differentcands
is currently based in Monterey, CA, however has such a world wide living experience. Born in Kazakhstan but has lived in Germany and South Korea, this young lady is the epitome of global style. Her style is simplistic yet edgy and we appreciate her sophistication even though she doesn't live in the largest city. That might be the quality of a true fashion lover.
SO CAL: Jessi Malay from
My White T
is both a singer and style blogger from Los Angeles. Jessi definitely brings the star factor to her daily outfits. This girl can rock a bralet or crop top like no other. Perhaps it's that she's a performer at heart, but her outfits are bold, daring, and if we happened to see her walking down the street we would absolutely take notice.
NOR CAL: Jessica from
Hapa Time
is based out of the Bay Area in Northern California. We first stumbled upon her blog Hapa Time a while back because we were drawn to her stunning photos. Jessica's style is pretty casual and feminine, but when she dresses up a look, she goes from girl next door to super model. We love how versatile her style is and how much she has evolved over the years.